Top 5 New York Giants of all-time: Does Eli Manning make the list?
The New York Giants are one of the most storied franchises in NFL history, and that's why we're going to figure out who is the best New York Giants player or coach to ever be a member of this great franchise. Is it Michael Strahan? Bill Parcells? Find out as we cover the top five New York Giants ever.
httpv://www.youtube.com/watch?v=27XeNefwABw
5. Eli Manning
Now I know what you're thinking. Really? Eli? Yes, because Eli Manning is a two-time Super Bowl winner. Not to mention that Manning is only 1935 yards from being the Giants all-time leader in passing yardage. His Super Bowl performances are enough to put him at number five and there is no telling how much higher he could go on this list before he finally retires.
4. Bill Parcells
"The Big Tuna" was the first Giants coach to do what no other coach could ever do in Giants history, and that was to win a Super Bowl. He did it with two different quarterbacks, and he's being rewarded for his accomplishments in the Pro Football Hall of Fame this year. He was also born and raised in Jersey. It was almost a match made in heaven. Bill Parcells will always be known for his tenure with the Giants as the peak of his greatness in the NFL.
3. Rosey Brown
This is a bit of an old school pick, but Rosey Brown was the most dominant offensive tackle in Giants history. He was a member of the 1956 NFL Championship team, and he was selected to the Pro Bowl nine times. At a time when the Pro Bowl actually meant something, because fans weren't allowed to participate. Brown is considered by many to be one of the best offensive linemen in NFL history and you may not know his name, but his accomplishments helped shape what it meant to be a New York Giant.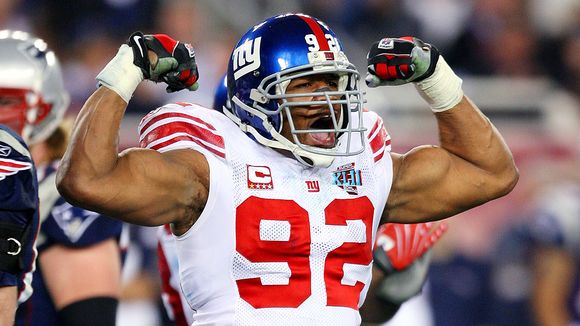 2. Michael Strahan
Yeah, we can all make fun of the gap in his mouth, the Subway commercials, or the fact he's double teaming Kelly Ripa on a weekly basis, but you shouldn't forget just how dominate Strahan was. Seven-time Pro Bowler, five-time All-Pro, most sacks in a single season and he is currently fifth in most sacks in a single career in the NFL. Why he was passed over for the Pro Football Hall of Fame is a travesty, because if you can ignore the public overexposure. You will find one of the greatest Giants and football players of all-time.
1. Lawrence Taylor
He changed the linebacker position forever. James Harrison, DeMarkus Ware and even Kevin Greene would not be where they are today if it wasn't for Lawrence Taylor. He's the original LT. Questionable decisions off the field will always haunt LT in the history books, but on the field is where he will most be remembered for in Giants lore. Taylor changed the game of football forever, and that is enough to cement him at the top spot on this list.
So there you have it. The top five New York Giants ever. If you disagree with this list; please feel free to a leave comment with your top five, but this list should be enough to satisfy.
James Cobern is a Featured Journalist for TPF and can be contacted at JCobern@ThePenaltyFlagBlog.com.