Football will always be a team sport. You could have a ten-time All-Pro tight end on your squad and still not make the Super Bowl. However, there are some individual players in the NFL that deserve a Super Bowl ring. It's not their fault that their team is terrible. So why shouldn't they be at least recognized that their time is running out and it's now or never for them.
That's what we will attempt today, to find the top 10 players that deserve a Super Bowl ring in 2013, because their time is running out. The list is narrowed down to players that are over thirty years old, because it is usually after thirty, that players see signs of decline without a lot of chances to get to the Super Bowl.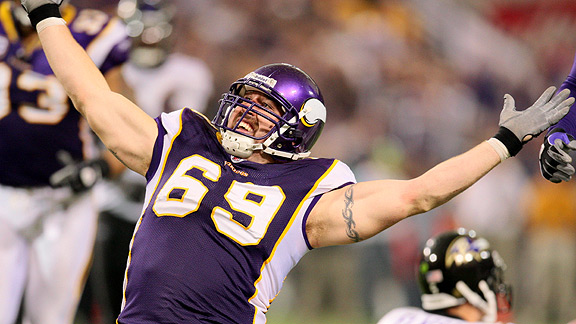 10. Jared Allen
At 31 years old with 5 Pro Bowls and 4 All-Pro's, Jared Allen hasn't had a great shot at going to the Super Bowl since Brett Favre retired in 2010. He continues to be on a Minnesota Vikings team that does not have a quarterback. I'm talking about you Christian Ponder. Though Allen has the greatest running back in the NFL in Adrian Peterson and a lot of savvy veterans left, the quarterback issue is still up for debate. Allen may have more time, but franchise quarterbacks don't grow on trees, and Ponder may not be a franchise quarterback.
9. Adrian Wilson
The 33-year-old, former Arizona Cardinals safety finally flew the coup for the New England Patriots this season. However, he still faces an uphill battle to gain a roster spot this season. The Pats are not going to give Wilson a roster spot based on his previous resume of 5 Pro Bowls and 4 All-Pro's. Wilson also showed a lot of signs of decline on the Cardinals in 2012, because he was used sparingly to keep him healthy throughout the season. He may not be on a team for the start of the 2013 season, but he still has been one of the most dominant safeties in the NFL over his career and deserves another shot at a ring in 2013.
8. Larry Fitzgerald
I know putting Larry Fitzgerald who turns 30 years old before the start of this season seems low, but he's only had 4 All-Pro recognitions in his career. He's also just barely 30 years old. Fitzgerald should have plenty of time left to get a ring and especially with Carson Palmer on the Cardinals now. Yes, Fitzgerald is a once in a lifetime type of player, and that 2005 season should have been counted as an All-Pro season, but it wasn't. It's not time for Fitzgerald to panic yet, because there are a lot of other players on this list above him that need to worry.
7. Kevin Williams
Remember the "Williams Wall" in Minnesota? This is the Williams that racked up 6 Pro Bowls and 5 All-Pro's, but is still no closer to a Super Bowl than Jared Allen. He also turns 33 in August. The wear and tear was on full display in 2012 as well. Williams may not hold up for that many more seasons, but all he has is a miracle that Christian Ponder can miraculously turn into a franchise quarterback. That may not happen, but it's all he's got.
6. Antonio Gates
By most accounts, Antonio Gates is a Hall of Famer. He was instrumental in revolutionizing the tight end position early in his career, and he's the reason why some basketball players skip the NBA for football now. The only problem is Gates plays for the San Diego Chargers whose Super Bowl window closed in 2012, he will turn 33 years old in mid-June, and he's had a bit of the injury bug as of late. All he can depend on is the Chargers' new head coach Mike McCoy working some magic to revitalize the team in only one season, because Gates may not hold up after 2013. Gates will always be considered one of the best Tight Ends in the NFL, but a Super Bowl ring may be out of his sights.
5. Andre Johnson
This player has probably had the toughest circumstances. Andre Johnson gets drafted by a team in 2003 that couldn't make the Playoffs until 2011, and by the way, Johnson is a phenomenal player. 6 Pro Bowls and 5 All-Pro's to his name, yet he doesn't get the credit he deserves. A lot like Larry Fitzgerald, except Fitzgerald isn't turning 32 years old by the time the 2013 season starts. Johnson also doesn't have the luxury of Carson Palmer throwing the football to him. 2013 may be the year Johnson's Texans put it all together, but he's a still a great player that deserves a shot at a ring more than most.
4. Jason Witten
You may hate the Dallas Cowboys, but you shouldn't hate Jason Witten. He's racked up 8 Pro Bowls, 6 All-Pros and did it on one of the most dysfunctional football teams in the NFL. You also can't deny that Witten is one of the most dominant tight ends to ever play in the NFL and will probably see his bust in Canton, Ohio when he finally retires. However, he still doesn't have a Super Bowl ring. Maybe 2013 may be the year Tony Romo gets everything right and the Cowboys shock the world, but we'll believe it, when we see it.
3. Julius Peppers
People forgot who Julius Peppers was until he joined the Chicago Bears in 2010, but 6 All-Pro and 8 Pro Bowls are nothing to forget about. He's 33 going on 34 this next January and doesn't have enough time left. However, he probably is in pretty good shape with a new head coach in Marc Trestman that can whip Jay Cutler into the promise he once was, but it could just as easily end in disaster. Cutler is all Peppers can depend on. He's not at an age to sit back and wait on another quarterback to develop. 2013 has to be year, or father time will catch up.
2. Champ Bailey
With his 12 Pro Bowls and 7 All-Pro considerations, Champ Bailey has always been considered one of the great modern Era cornerbacks. The only problem is 2012 proved, that even will Peyton Manning as your quarterback, the Super Bowl will still remain one of the most elusive prizes in the NFL. Bailey's also showing his age and anyone that disagrees can watch the tape of the Divisional matchup against the Baltimore Ravens in 2012. He turns 35 yards old in July and this may be his last rodeo. Maybe Manning can work his magic to a Super Bowl berth in 2013, but he didn't do in 2012.
1. Tony Gonzalez
It was pretty certain that Tony Gonzalez would be retired by 2013, but he changed his plans after being one play from the Super Bowl. He's 37 years old and he isn't the same player that accomplished 13 Pro Bowls and 10 All-Pro's anymore. This season is his last shot. Either the Atlanta Falcons can put together a Super Bowl run or Gonzalez will hang up his cleats. It just happens, but at least Gonzalez will have the satisfaction that he will be forever recognized in Canton, Ohio when the time comes. It's all up to the Falcons defense and Matt Ryan now.
James Cobern is a Division Leader for TPF and can be contacted at JCobern@ThePenaltyFlagBlog.com or follow him on Twitter @Jmcobern1