The explosion of outstanding tight end tandems is taking the NFL by storm, and NFL teams reacted by snatching up most of the tight ends in the 2013 draft, despite already having a proven starter at the position to capitalize on this trend. Why should you only have one great tight end, when you can have two?  It drives opposing defensive coordinators nuts. However, which teams that drafted tight ends in the 2013 draft will lead to a great tight end tandem in the future? That's what we're going to find out, as we discover the top five potential tight end tandems to emerge in 2013.
5. Philadelphia Eagles: Brent Celek and Zach Ertz
The Eagles had a great tight end in Brent Celek and they signed James Casey too, but Chip Kelly still wanted another tight end to shake up the group in Zach Ertz. He had a lot of hype going into the 2013 NFL draft, because of his relationship with Andrew Luck at Stanford. However, it remains to be seen if the Eagles will have a strong tight end tandem with the rookie, because they have James Casey. Ertz may have been over drafted too, because he still needs to develop his blocking skills at the next level, which would keep Ertz buried in the depth chart for 2013. You still have to keep hope for this tandem though, because if they hit, it could be one of the best in the NFL in Kelly's up-tempo offense.
4. Kansas City Chiefs: Tony Moeaki and Travis Kelce
Most NFL fans have forgotten who Tony Moeaki is, after he missed the 2011 season due to injury and the Chiefs went 2-14 in 2012. However, he was one of the best tight end prospects in the 2010 draft, and the Chiefs gave him a partner in crime in my favorite tight end of the 2013 draft class in Travis Kelce this season. There are also lots of reports coming out of OTA's that show the Chiefs will be running a "tight end friendly offense" in 2013, and that could mean breakout seasons for Moeaki and Kelce. The presence of Anthony Fasano is a concern to derail this tandem, but Kelce is a more talented tight end than Fasano ever was. This tandem could do big things in year one and beyond.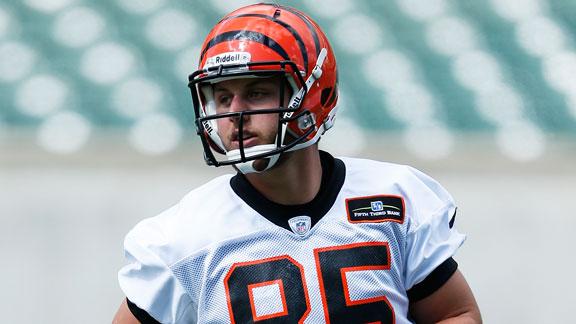 3. Cincinnati Bengals: Jermaine Gresham and Tyler Eifert
Most analysts were scratching their heads when the Bengals drafted Tyler Eifert in the first-round, because the Bengals had Jermaine Gresham. However, why in the world would you not bolster your offense with Andy Dalton type weapons? By Andy Dalton type, I mean that Dalton can't throw the ball deep  a lot and needs help from receivers in the middle of the field. Adding Eifert with Gresham in 2013 could be an explosive combination to an offense that is as complete as it can get. It's all up to Dalton now, but Gresham and Eifert have a great shot at being one of the top tight tandems in 2013.
2. San Francisco 49ers: Vernon Davis and Vance McDonald
The 49ers had a great tight end tandem in Vernon Davis and Delanie Walker in 2012, but Walker left in free agency to the Tennessee Titans. So what did the 49ers do in response? They drafted Vance McDonald, and he could be better than Walker. The versatile McDonald was used in a variety of formations at Rice including being split out wide as a receiver, and he will likely be used in the same manner in San Francisco. McDonald's only issue to clean up is inconsistency in pass catching and he needs to add bulk to aid in blocking, but Vernon Davis and (insert name) is great tandem in anyone's book. The difference is McDonald won't be an anonymous name in 2013.
1. Dallas Cowboys: Jason Witten and Gavin Escobar
This is where this ranking might get a lot of flak. Yes, Gavin Escobar is one of the most controversial tight ends in the draft community now. Either you love him or you hate him with a passion. However, Jason Witten and (insert name) is a good tandem. This isn't the Cowboys first attempt at trying to get a tight end tandem to work, but three times should be the charm. Escobar will never live up to his draft stock, but he will be competent enough in his first season to emerge as another receiving threat coupled with Witten.
It also doesn't hurt that the man who runs Dallas likes him a lot and even mentioned using Escobar in two tight end sets to bolster the passing game. Jerry Jones is the sheriff and if he takes a liking to you, then you're going to see playing time. Let's not forget that Escobar's only issues are blocking and he's kind of a wimp when he gets the ball into his hands. That shouldn't stop him from being used on crossing patterns as just a receiver, and Jones will make sure that happens by the way. You may not like it, but the Witten and Escobar tight end tandem has the most potential out of the all the groups on this list to succeed in 2013.
James Cobern is a NFC East Division Leader for TPF and can be contacted at JCobern@ThePenaltyFlagBlog.com or follow him on Twitter @Jmcobern1