Dion Jordan and the Eagles are a perfect fit
Some Philadelphia Eagles fans may be skeptical of this new team under Chip Kelly's watch, but the moves they have made were for a specific reason. The Eagles are not just going out and adding players just to add players, but there is one player on this roster that is missing. A player that I have been vehemently debating with other fans and experts that I believe the Eagles should take 4th overall. That player is Dion Jordan. It has nothing to do with the fact that Chip Kelly was Jordan's Head Coach at Oregon.
That is one point to the equation, but it has more to the do with the type of defense the Eagles are going to be running in 2013. The Eagles are highly likely to be running the 4-3 "under" or 3-4 defense in 2013, because of new defensive coordinator Billy Davis. Those schemes need specific players to run them correctly. That is why Isaac Sopoaga was brought in to play nose tackle in either scheme, and Connor Barwin was brought in, to play the strong-side outside linebacker. I'm tired of people saying Barwin was brought in to play something different. The Eagles brought Barwin in specifically based on his play on the strong-side in 2011 at Houston.
The strong-side linebacker in Billy Davis' 4-3 "under" is going to be 90% of the time rushing the passer because Barwin is not impressive at pass coverage. Barwin was not brought in to cover because he struggled last season to cover. However, the weak-side linebacker/defensive end has to be a player who rushes the passer 70% of the time, and can drop back into pass coverage 30% of the time. The two players that fit that description are Brandon Graham and Trent Cole, but can they do that? Can Graham drop into coverage when he has exclusively only been a 4-3 edge rusher?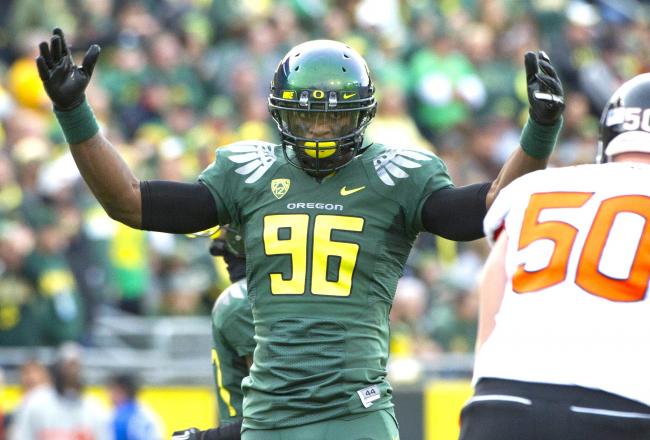 I believe he cannot because on tape; he has stiff hips when he plays in space. Stiff hips sink defenses, he does not have the fluidity to move in space. He was already a fringe 3-4 outside linebacker coming out of college at Michigan. His better fit is at 4-3 defensive end, and he will have a role on this defense. Graham and Trent Cole seem like perfect candidates to play strong-side five-technique. They are skilled at run stuffing, and that may be a waste of their talents as pass rushers, but the Eagles decided to change their defense.
These are the ramifications as a result of those changes in philosophy. Graham becomes a rotational pass rusher with Barwin, or permanent five-technique. Please stop bringing up Barwin filling that role because Barwin is not being paid to drop into coverage.
However, the point of showing this fact is Dion Jordan would be the perfect fit for the weak-side outside linebacker/defensive end position. Jordan is an athlete who can rush the passer and cover in space. Something that Graham and Cole cannot do. Adding him to the defense will make the transition to a 3-4 defense that much easier. Eventually, the Eagles will run the 3-4 once they have a few more drafts under their belts, and Jordan would be a better 3-4 outside linebacker than Graham.
The Eagles could choose Graham who will be exposed in pass coverage game after game until a change is made. Jordan is the 4th overall pick to me. Offensive linemen can be developed in the second and third round. The Eagles still have a lot of cap room to spend this offseason. They will find linemen, but they will not find prospects like Jordan. That is why the Eagles will draft Dion Jordan 4th overall, and it is not even close. He should be the centerpiece of this draft, and it has nothing to do with his relationship with Chip Kelly.
James Cobern is a NFC East Division Leader for TPF and can be contacted at JCobern@ThePenaltyFlagBlog.com or follow him on Twitter @Jmcobern1