Dallas Cowboys 2013 offseason: Chaos or Playoffs?
Every time you think of the Dallas Cowboys' upcoming season in 2013, becomes a sense of dread and disappointment. What little credibility Jerry Jones had by bringing three Super Bowl titles is on its last thread, the contracts are bloated, the stars are dimming, and a franchise desperately looking for stability may be without a Head Coach at the end of the season. The only constant in this looming chaos will be Tony Romo, because if Romo didn't sign that massive extension earlier this year, it would have made the anxiety in Dallas come to a massive crescendo. You can't fire ownership of a NFL team, but this franchise has made it to the Playoffs even with Jones' meddling. However, there are many questions to be answered this offseason if Dallas will finally get over the hump in 2013.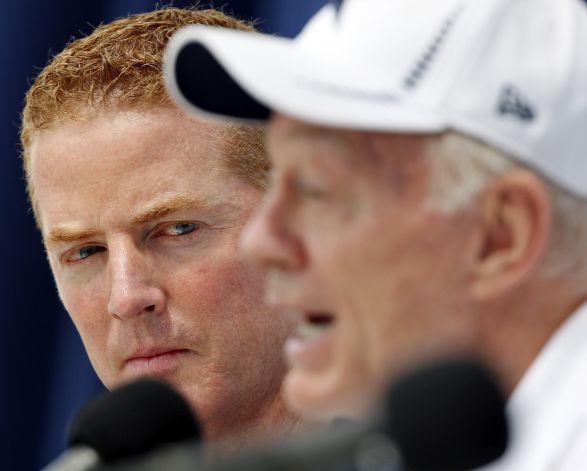 The first question is who is going to call the plays this season? Jason Garrett is definitely trying to make his last stand and not budge on this issue, but the Cowboys could benefit from having Bill Callahan call the plays. Callahan favors a shorter, quick, West Coast style offense that will help Romo make faster decisions. Anytime Romo has to think in the pocket is when he makes his worst mistakes. Callahan won't improve the running game to a larger degree as a West Coast style, but the quicker tempo will make the offense more efficient overall.
Garrett may be a Don Coryell disciple, but the Cowboys offense doesn't have the personnel to run a Coryell offense. Romo will become a more efficient passer in Callahan's offense, and that will trickle down to the rest of team. It's bad for Garrett, because one way or another he will be replaced. Would you want to be the Head Coach of a football team that is running an offense counter to your expertise? However, the fact Garrett wasn't fired after 2012 shows indecisiveness on Jones' part. Callahan calling the plays in 2013 will be a sign of improvement in Dallas, but if Garrett calls the plays, expect business as usual until he's fired sometime in 2013 or at the end of the season.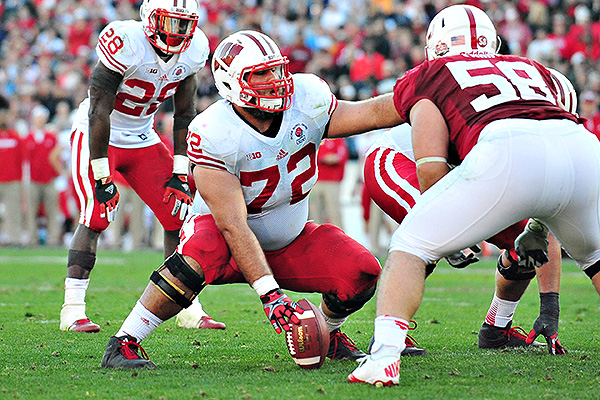 The second nagging question in Dallas is will the rushing offense improve? Rookie center Travis Frederick will be an improvement, but he's still not enough. The running backs behind DeMarco Murray are a mystery, and that includes Joseph Randle. Either Frederick adds enough pizzazz to improve the line as a whole, or the unit will continue to hamper every aspect of the offense. The Cowboys need more talent on the offensive line, but spending all their money on skill positions has done them no good. There has been some chatter about bringing in Eric Winston, but how do you sign Winston to replace Doug Free, if cutting Free saves you 0$ in cap space?
The third question is whether the overpaid veterans in Miles Austin and Brandon Carr will show some life this season? Terrance Williams and B.W. Webb were drafted to push them, but will that be enough? There is nothing you can do about Austin getting injured, but at least Williams has enough talent to compensate. Webb on the other hand will have to prove he can be more than a nickel corner. However, if they both hit big in 2013 on, then expect Austin and Carr to be without a job in a couple of seasons. The last question is how the DeMarkus Ware and Anthony Spencer will transition to Monte Kiffin's Tampa 2 scheme. Spencer is on a one-year proposition, and a long-term contract will only be made if he proves he can be as effective as he was in 2012 in the new 4-3 scheme. Otherwise Spencer will out price his market and be on another team in 2014 as a result. Ware on the other hand shouldn't be hurt by this move. Ware is one of those once a pass rusher, always a pass rusher type of players. This defense still puts a lot of uncertainty on how 2013 will turn out, but they have the right coaches to run it.
With these questions to answer, the Dallas Cowboys won't have enough answers. This season can be Playoffs, but it also has a looming chaos that can derail this team halfway through the season. The Cowboys unquestionably have the talent to make a Super Bowl run, but they're never had the stability or consistency to do it. Jerry Jones wants 2013 to be a transformative season in the franchise, but at what cost? It's boom or bust time in Dallas once again, but this time it's real.
James Cobern is a NFC East Division Leader for TPF and can be contacted at JCobern@ThePenaltyFlagBlog.com or follow him on Twitter @Jmcobern1