Green Bay Packers 2013 defensive draft needs
To say the Green Bay Packers defense is terrible based on one Playoff game against the San Francisco 49ers is shortsighted, but the Packers' defense is their weakest link. You don't think of the Packers as a shutdown defense, but the 2013 NFL draft will offer tons of possibilities for the Packers to work toward getting back to that type of defense.
Or at the very least a playmaking defense, because the Packers went from 31 interceptions in 2011 to 18 in 2012. And most of that drop in production resulted from Charles Woodson's decline.
The Packers 2013 defensive draft needs are as follows: S, OLB, DE and CB. How do the Packers address these needs is simple, because you don't have to use the 26th pick on a safety.
Analysts are pounding the table for the Pack to draft a Jonathan Cyprien or even Matt Elam, but I would suggest the Packers wait till the second round to draft David Amerson of N.C. State. The reason is because Amerson has the ball skills needed to make up for the loss of Charles Woodson.
Amerson was a turnover machine at N.C. State with 13 interceptions in 2011, and 5 interceptions in 2012 with a drop in production only because teams stopped throwing in his direction as much. He is a questionable cornerback, but I'm willing to say with his ball skills can become an All-Star free safety.
Amerson has the skill set to be a special player and he will be available in the second round. He's the best playmaker out of all the safeties and cornerbacks in the 2013 draft. That's exactly why he needs to be one of the main targets for the Packers in 2013.
The next position that needs help is outside linebacker. Clay Matthews is of course your stud, but the Packers haven't been able to find a consistent pass rusher on the other side.
However the player I would suggest the Packers pursue in 2013 is Corey Lemonier of Auburn. Lemonier is an undersized player as a 4-3 defensive end, but his pure pass rush ability as a 3-4 outside linebacker can make the Packers front seven dominant.
Lemonier is a highly athletic player with a tremendous motor, and was the best pass rusher in the SEC in 2012. Just look at his tape against Luke Joeckel who is widely considered the consensus top left tackle prospect in the 2013 NFL draft.
If the Packers loss out on Lemonier, then a Sio Moore or Brandon Jenkins are a major consideration, but Lemonier is another player I consider who has special ability.
3-4 defensive end is considered a need, because 33-year-old Ryan Pickett isn't going to last forever. That's where I see the 26th pick being used on is at defensive end.
The top players' worth consideration is a debate between Johnathan Hankins, Sylvester Williams, Datone Jones and Margus Hunt. Williams or Hankins would be a splitting image of Ryan Pickett.
They have the same size and interior quickness for the position that can play now or develop a bit before eventually replacing Pickett. Jones and Hunt on the other hand are physical specimens.
I like Jones and Hunt, because they have enough versatility to be used in various positions on the line. The only issue with Jones is fit, because he is better suited as a 4-3 defensive end.
Hunt is just a very raw football player without much experience with football, because he's originally from Estonia. However being a novice to football isn't such a bad thing, because he won't have to unlearn too many bad techniques.
You can build Hunt on the ground up, and the sky is the limit for Hunt. Which he could probably touch the sky too as he's 6'8.
The last need on defense is nickel cornerback. We live in a passing league, and you can never have enough nickel cornerbacks.
The Chicago Bears and Detroit Lions are going to sling it in 2013. That's why nickel corner is a need in 2013.
My favorites are Leon McFadden, Jordan Poyer, B.W. Webb, Robert Alford and Tyrann Mathieu.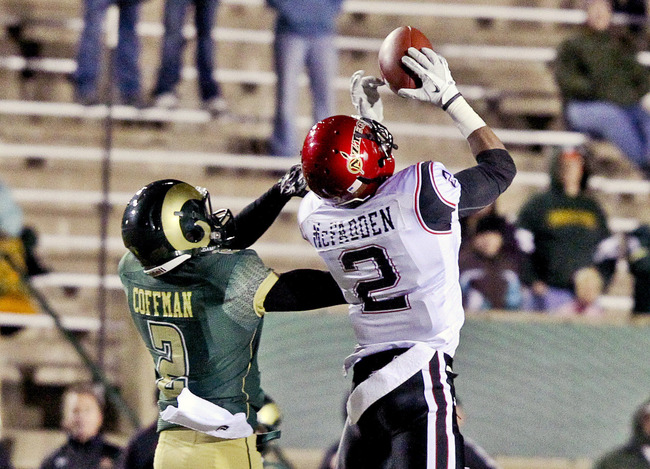 I like McFadden because of his cover corner ability, but like Poyer, Webb, Alford and Mathieu because of their ball skills. Mathieu is the biggest playmaker out of the group, but he comes with drug issues.
That's why I'd rather go with a Poyer, Webb and Alford before getting Mathieu. The Packers simply have to get more playmakers in the 2013 draft on defense.
However the possibilities are endless. I think targeting defensive line in the first, safety in the second, outside linebacker in the third and cornerback in the fourth round should make for a solid draft class.
The offense has gone through some doldrums, but getting turnovers on defense will help the offense get through its identity issues. However a defense that can turn the ball over is the key to another Super Bowl run, and that needs to be the focus for the Packers in the 2013 draft.
James Cobern is a Featured Journalist for TPF and can be contacted at JCobern@ThePenaltyFlagBlog.com.